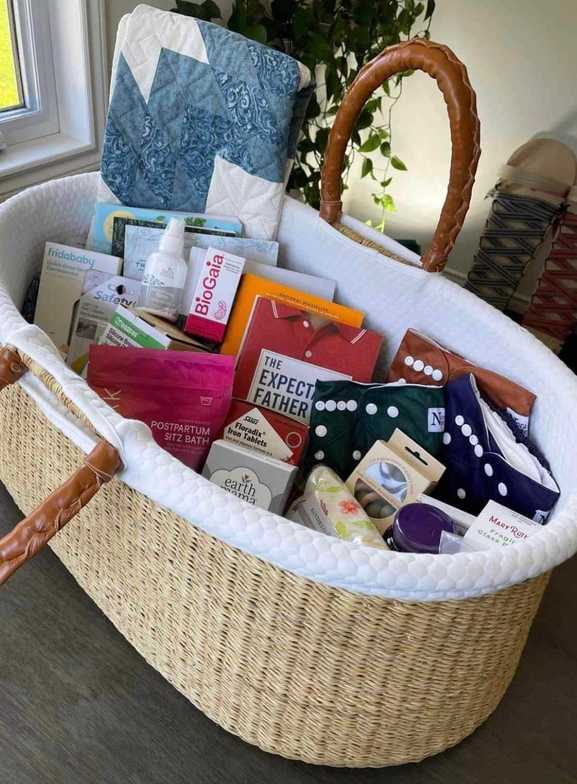 As you might have seen or even been fortunate enough to receive, the OMC has provided 80+ families with a Baby Bundle. To help promote health and wellbeing for expectant Akwesarò:non families, Baby Bundles are a bassinet sized, multi use basket, filled with all sorts of our wonderful cultural items, prenatal, postpartum and newborn necessities that families may need right from the start. OMC's goal with this project is to support Akwesasne families + welcome our future ancestors to the community. The Baby Bundle project was inspired by the Finnish Baby Box project from Finland. The new and expectant families in Finland received items to give each newborn the same start in life, regardless of social status. The OMC adopted the idea and made it relevant for our families in Akwesasne. So, what's included, You might be wondering…
Items for the prenatal period;
herbal perineal spray, sitz bath, prenatal vitamins, prenatal fish oil
Assorted herbal teas for prenatal, blended by our Lead Midwife.
Items to assist Mom during labor;
massage tools to cope with uncomfortableness.
reusable water bottle to stay hydrated.
TENS machine to cope with pain.
hydration + nutrition for strength and wellness.
Items for the Postpartum + Newborn phase
Natural Fiber Baby Bassinet with mattress + cover + inside basket liner
Snuggle me baby lounger cot
Lulla Doll
Set of cloth diapers
Baby thermometer + baby nail clippers
Vitamin D for mom + baby, Rose Oil for mom + baby, probiotic for mom + baby, herbal iron supplement, magnesium ache + pain body spray
wooden baby toy + 4 assorted baby-friendly books for baby's entertainment
Breastfeeding items;
Haakaa breast pump + breastfeeding essentials – Nipple Cream, Nipple covers, wool breast pads
Assorted herbal teas breastfeeding blended by our Lead Midwife.
Handmade + Local Artist made items such as:
Wooden baby bowl + spoon from Two House Designs
Baby moccasins from Two House Designs
Baby rattle + water drum from Two House Designs
Cradle board (unfinished wood so you can design/wood-burn/paint as you envision) from Two House Designs
Baby ribbon shirt made by Azure Brown
Baby quilt made by Renee Adams
We send our sincerest gratitude to The Mohawks of Akwesasne Community Settlement Trust for generously sponsoring this wonderful project!
We are extremely grateful for the amazing gift our Akwesarò:non artisans shared in this project and contributing their skills, artistry & workmanship to make this project a beautiful thing!
And, to Team OMC for seeing the vision and making it all happen - we rock!
Niawenkó:wa.
"It takes a whole community to raise a child."